Documentary about Derroll Adams by Patrick Ferryn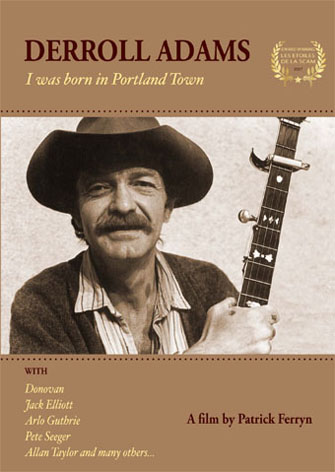 Derroll Adams (Portland, Oregon, 1925 - Antwerp, 2000) chose to reside in Belgium, where he Iived for more than 40 years. He was, like Woody Guthrie - whom he met in California - an American folk-singer with a political conscience. Derroll was a banjo-player, travelling troubadour, songwriter, composer, poet, and gifted painter. In 1957, during the skiffle boom, a musical form which was all the rage at that time, he arrived in London, rejoining his friend and road-buddy: "Rambling" Jack Elllott. They exposed a whole generation of young musicians to a repertoire of traditional American music which was previously hardly known. In 1958, after becoming acquainted with William Burroughs, Allen Ginsberg, and other leading names of the so-called beat-generation, Derroll Adams settled in Brussels, conveying the ideas of the beat movement to the regulars of the celebrated Welkom Café. In 1967, he joined Ferre Grignard in Antwerp, and for almost three decades enriched and captivated the European folkmusic scene.
This film is the portrait of an unconventional, sensitive, charismatic man with an enormous underground following, straight from the pages of Jack Kerouac. It would prove daunting to attempt a count of those profoundly influenced by his music, and - perhaps, above aIl - by his way of life and worldview. For the first time a film has assembled previously unpublished interviews, numerous musical offerings, original documents, and archive material.
Featuring, amongst others: Donovan, Jack Elliott, Finbar Furey, Herta Geer, Arlo Guthrie, Frank Hamilton, Wizz Jones, Youra Marcus, Arlette Reinerg, Pete Seeger, June Shelley, Allan Taylor, Hans Theessink, Colin Wilkie, Tucker Zimmerman, and many other friends and acquaintances of Derroll Adams.
English translation: Colin Wilkie - Photo: Andy Somogy
Production: Caboose Productions – CBA – Cinemotion – L'Archipel – RTBF (Belgium, 2005) | DVD Review
Director/Producer: Patrick Ferryn
Cinematographer: Michel Baudour
Sound: Alain Sironval – Richard Verthé
Editing: Denise Vindevogel
Mixing: Alain Pierre

Promo and contact:
Tel: + 32 2 227 22 34
email: promo@cbadoc.be
website: https://www.cbadoc.be

Caboose Productions
Contact: Patrick Ferryn
Longueville, BELGIUM
email: pmrferryn@gmail.com
Director's note
This film comes right from the heart and is a true labor of love which took seven years to be achieved. At the time the project started, nobody in Belgium was interested to spend a dime in such a production, for the reason that Derroll Adams was sick, old and almost forgotten by the media.
With the generous assistance of some friends, all well decided to pay a tribute to the legendary "banjoman with the tattooed hands", we started filming long interviews with Derroll Adams in Antwerp, in 1998, eventually becoming our own producer. Unfortunately Derroll's poor health condition deteriorated and he passed away in February 2000. Then, we were lucky to get the support of prominent long-time companions and musician friends of Derroll and found the opportunity to visit and film them in the US, in England, Ireland, Denmark, France and Belgium. Finally, some years later, when the filming was entirely done, the CBA (Centre de l'Audiovisuel à Bruxelles), the French-speaking and the Flemish Belgian TVs (RTBF and VRT), and the Danish TV became interested in the project, giving me the possibility to finalize the postproduction of the film.
It's not all about folk-music; of course there is a great deal of music, performed by magnificent artists, but at the same time it's a kind of road-movie through the time of the Depression, the McCarthyism period, the Korean war, the beat movement and the folk revival of the Sixties; the journey of one of the greatest authentic American artists, unjustly underestimated, and little known in the States (as he spent more than forty years in Belgium), for who folk-music was a way of living. In the mid-Fifties, Derroll Adams composed "Portland Town" (also covered later by Joan Baez, the Kingston Trio, Bob Harter, Dick Weissman, Josh White Jr., Barbara Dane, Arlo Guthrie, Van Morisson, Colin Wilkie & Shirley Hart, Marianne Faithfull and many others), a moving anti-war song, a simple statement against the cruel stupidity of war. That was just after the Korean war. Alas, to paraphrase Bob Dylan: "Times have not changed"! I would be more than very proud if "Portland Town" could resonate again in Derroll's own country and home town in Oregon.
Patrick Ferryn
Interview with Patrick Ferryn,
filmmaker of folk musicians like Allan Taylor and Derroll Adams
Director: Jean-Michel Vlaeminckx
Cameramen: Géraud Vandendriessche & Arnaud Crespeigne
Patrick Ferryn is the director of these two beautiful documentaries:
- Derroll Adams, l'homme au Banjo / Derroll Adams, I Was Born In Portland Town (2005)
- Allan Taylor - Endless Highway (2009).