Tønder Folk Festival 2002 on the presentation of the CD Banjoman [a tribute to Derroll Adams]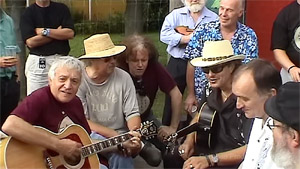 Shortly after Derroll Adams' death in February 2000, his long-time friends paid tribute to him by helping to produce – mainly under the leadership of Arlo Guthrie and Hans Theessink – a magnificent album featuring some of his own songs and those he loved the most*. On the occasion of the release of this CD, the folk festival of Tønder, Denmark, devoted one day of its 2002 edition to honour the memory of Derroll Adams, who enjoyed a great and exceptional notoriety there.
Many of those who graciously contributed to Banjoman were present, as well as many former fellow travellers, to remember their dearly departed friend.
It was during a completely improvised jam session, in the afternoon of Sunday, August 25, that these few images were taken, of one hell of a bunch of old friends and wonderful artists, gathered around Ramblin' Jack Elliott, Derroll Adams' oldest accomplice.
It has been said of Mozart that after listening to one of his works, the silence that followed was still "Mozart's". Certainly, this could apply to many other great musicians. I've always felt that it was no exaggeration to say that this sentence also suits Derroll perfectly.
Patrick Ferryn
* Banjoman [a tribute to Derroll Adams], Blue Grove BG-1420 & Rising Sun Records RSR-2102-2.
To Derroll Adams (1925-2000)
PHILOSOPHICAL SONG…
Tønder Folk Festival (DK)
August 25, 2002
Featuring
Danny and Rebecca ADAMS
Maartin ALLCOCK
Seán CANNON
Martin and Eliza CARTHY
DONOVAN
Ramblin' Jack and Aiyana ELLIOTT
Mogens ESKILDSEN
Arlo GUTHRIE
Anker HINTZ
Phil JACKSON
Youra MARCUS
Barney McKENNA
John SHEAHAN
Rod SINCLAIR
Allan TAYLOR
Hans and Milica THEESSINK
Danny THOMPSON
Happy and Jane TRAUM
Floriske VAN GENNIP
Special thanks to Carsten PANDURO, Danny ADAMS and Sue DUFF
Music
"I Wish I Was A Rock"
Written, sung and played by Derroll ADAMS
(Portland Town, Ace Of Clubs SCL 1227)
Filming: Patrick FERRYN
Editing: Sophie DEVAERT
Patrick Ferryn and Sophie Devaert
(CABOOSE PRODUCTIONS 2020)