Tucker Zimmerman @ Blues-sphere Bar Luik - 5 February 2022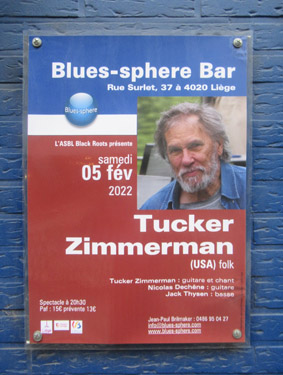 Een geïnspireerd en ingetogen concert was het in Outremeuse, waar we overdag nog fijn rondgewandeld hadden. Tucker Zimmerman werd begeleid door Nicolas Dechêne op gitaar en Jack Thysen op contrabas, twee muzikanten die Tucker Zimmermans muziek en woorden erg goed aanvoelden. Hij was dan ook goed op dreef op zijn eenentachtigste; binnenkort vertrekt hij zelfs naar zijn motherland USA voor een uitgebreide tournee. Tucker begon met een paar songs over Amerika, Another America weliswaar, zijn eigen Amerika dus en dat van zijn generatie. Hij groeide dan ook op in het San Francisco van de sixties en de flower-power. Jerry Garcia van The Grateful Dead was indertijd nog een vriend van hem. Ook mooi waren het nummer Cowboy en een song over Michelangelo.
In het tweede deel speelde Tucker Zimmerman eerst een drietal songs solo, waaronder het oudere Two Hands One Man Band en een die dag ter plaatse geïmproviseerd nummer over de club Blues-sphere. Daarna kwamen de muzikanten er terug bij voor Old Friends en de klassieker Oregon, een meeslepend en bijna hypnotiserend nummer, geschreven voor zijn vriend Derroll Adams. Daarover vertelde Zimmerman dat deze zoveel voor hem betekende dat Derroll altijd in zijn gedachten was als hij op een podium stond. We kregen ook een haiku te horen, A Sip Of Wine, gewoon omdat hij van deze Japanse dichtvorm hield. Verder nog fijne nummers als Song For A Friend, Don't Let Jim Stick Around Too Long en I Think I Love You.
Voorafgaand aan Tourist In My Hometown (over San Francisco) verklaarde Tucker zijn liefde voor Luik: "Liège is my home town for 50 years now, something I never expected, but the city is in my heart. San Francisco once was my hometown but now not anymore, I am a tourist there as well". Na een toch al lang concert volgden nog drie bissen: het bluesy Watchmen In Their Towers en Ever Down To Memphis, een soort van rap/spoken word song, waarin hij het had over Descartes en Isis, en met Didn't It Rain zelfs Mahalia Jackson citeerde. Als afsluiter kregen we te horen: "we musicians have a language in common" , en die taal is de blues - een erg aanstekelijke 12-bar blues met referenties naar John Lee Hooker en Howlin' Wolf, waarbij iedereen even een solo kreeg en de clubuitbater zelfs een deuntje meeblies op mondharmonica.
De wijzer op de klok klom stilletjes aan naar zijn hoogste punt.
Marc Vos