Festival de Tønder 2002 à l'occasion de la présentation du CD Banjoman [a tribute to Derroll Adams]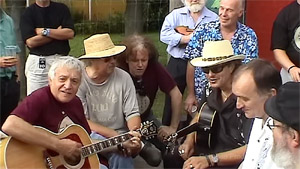 Peu après la disparition de Derroll Adams, en février 2000, ses amis de longue date lui ont rendu hommage en participant à la réalisation – principalement sous la houlette d'Arlo Guthrie et Hans Theessink – d'un magnifique album reprenant quelques-unes de ses propres chansons et celles qu'il affectionnait le plus*. À l'occasion de la sortie de ce CD, le festival folk de Tønder, au Danemark, a consacré une journée de son édition 2002 à honorer la mémoire de Derroll Adams, qui y jouissait d'une grande et exceptionnelle notoriété.
Plusieurs de ceux qui ont gracieusement apporté leur contribution à Banjoman étaient présents, ainsi de nombre d'anciens compagnons de route, pour évoquer leur cher ami disparu.
C'est au cours d'une jam session tout à fait improvisée, dans l'après midi du dimanche 25 août, que ces quelques images ont été prises, d'une sacrée bande de vieux copains et de merveilleux artistes, réunis autour de Ramblin' Jack Elliott, le plus ancien complice de Derroll Adams.
On a dit de Mozart qu'après avoir écouté une de ses œuvres, le silence qui s'en suivait était encore « du Mozart ». Certes, ceci pourrait s'appliquer à nombre d'autres grands musiciens. J'ai toujours estimé qu'il n'était aucunement exagéré de dire que cette phrase convient également on ne peut mieux à Derroll Adams.
Patrick Ferryn
* Banjoman [a tribute to Derroll Adams], Blue Grove BG-1420 & Rising Sun Records RSR-2102-2.
À Derroll Adams (1925-2000)
CHANSON PHILOSOPHIQUE…
Festival folk de Tønder (DK)
Le 25 août 2002
Avec la participation de
Danny et Rebecca ADAMS
Maartin ALLCOCK
Seán CANNON
Martin et Eliza CARTHY
DONOVAN
Ramblin' Jack et Aiyana ELLIOTT
Mogens ESKILDSEN
Arlo GUTHRIE
Anker HINTZ
Phil JACKSON
Youra MARCUS
Barney McKENNA
John SHEAHAN
Rod SINCLAIR
Allan TAYLOR
Hans et Milica THEESSINK
Danny THOMPSON
Happy et Jane TRAUM
Floriske VAN GENNIP
Nous remercions tout particulièrement Carsten PANDURO, Danny ADAMS et Sue DUFF
Musique
"I Wish I Was A Rock"
Écrit, chanté et joué par Derroll ADAMS
(Portland Town, Ace Of Clubs SCL 1227)
Réalisation : Patrick FERRYN
Montage : Sophie DEVAERT
Patrick Ferryn et Sophie Devaert
(CABOOSE PRODUCTIONS 2020)