Folkfestival van Tønder 2002 op de presentatie van de CD Banjoman [a tribute to Derroll Adams]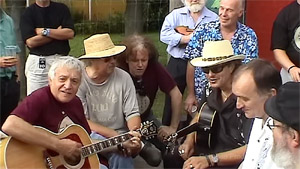 Niet lang na het overlijden van Derroll Adams in februari 2000 brachten zijn oude vrienden hem hulde door een bijdrage te leveren aan de productie - voornamelijk onder leiding van Arlo Guthrie en Hans Theessink - van een prachtig album met enkele van zijn eigen nummers en die waarvan hij het meest hield*. Ter gelegenheid van deze cd release, wijdde het Folkfestival van Tønder, Denemarken, een dag van de 2002 editie om de nagedachtenis te eren aan Derroll Adams, die daar een grote en uitzonderlijke bekendheid genoot.
Vele van degenen die op een bereidwillige wijze aan Banjoman hadden bijgedragen, waren aanwezig, evenals veel voormalige rondtrekkende metgezellen, om hun dierbare overleden vriend te gedenken.
Deze korte filmbeelden werden vastgelegd in de namiddag van Zondag 25 augustus tijdens een spontaan geïmproviseerde jamsessie met een stel oude vrienden en geweldige artiesten verzameld rond Ramblin' Jack Elliott, Derroll's medestander van het eerste uur.
Over Mozart wordt gezegd dat na het beluisteren van een van zijn werken, de stilte die erop volgde nog steeds "Mozart" was. Dit zou zeker van toepassing kunnen zijn op veel andere geweldige muzikanten. Ik heb altijd het gevoel gehad dat het niet overdreven is om te zeggen dat deze zin ook perfect bij Derroll past.
Patrick Ferryn – Vertaling Jef Van Gool
* Banjoman [a tribute to Derroll Adams], Blue Grove BG-1420 & Rising Sun Records RSR-2102-2.
Aan Derroll Adams (1925-2000)
FILOSOFISCH LIEDJE…
Folkfestival van Tønder (DK)
25 augustus 2002
Met
Danny en Rebecca ADAMS
Maartin ALLCOCK
Seán CANNON
Martin en Eliza CARTHY
DONOVAN
Ramblin' Jack en Aiyana ELLIOTT
Mogens ESKILDSEN
Arlo GUTHRIE
Anker HINTZ
Phil JACKSON
Youra MARCUS
Barney McKENNA
John SHEAHAN
Rod SINCLAIR
Allan TAYLOR
Hans en Milica THEESSINK
Danny THOMPSON
Happy en Jane TRAUM
Floriske VAN GENNIP
Met bijzondere dank aan Carsten PANDURO, Danny ADAMS en Sue DUFF
Muziek
"I Wish I Was A Rock"
Geschreven, gezongen en gespeeld door Derroll ADAMS
(Portland Town, Ace Of Clubs SCL 1227)
Realisatie: Patrick FERRYN
Montage: Sophie DEVAERT
Patrick Ferryn en Sophie Devaert
(CABOOSE PRODUCTIONS 2020)